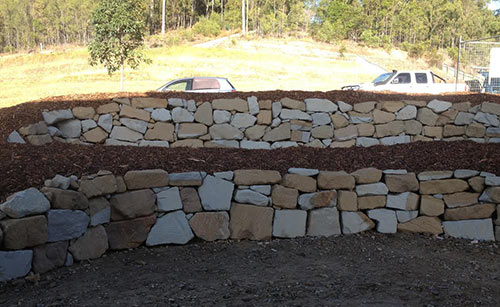 Gold Coast Rock Walls has built itself on quality workmanship and excellent service. Established on the Gold Coast in 1980 Gold Coast Rock Walls is a leading builder of custom retaining walls throughout the Gold Coast.
As a result of our innovative design skills as well as using only quality building materials, quality plant and equipment and employing the best highly skilled operators, Gold Coast Rock Walls has become one of Queensland's most reputable and recommended custom rock wall construction businesses.

Boulder rock walls are usually a far more economic choice to build your retaining wall compared to traditional block walls or sleeper walls, which are more labour intensive to construct. This is why they usually cost a great deal more.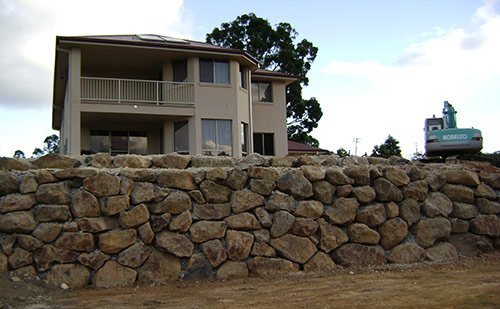 Boulder rock walls also provide a more attractive feature that does many jobs including; protecting against soil erosion, improving site drainage and adding value to your property.

If your land is on varying levels, a boulder rock retaining wall is an excellent way of landscaping your property. Instead of enduring a steep and potentially difficult to manage slope, we can build attractive terraces using natural boulder rocks.
By terracing the banked area this gives you an opportunity to incorporate beautifully landscaped gardens on each terrace. This can transform a steep bland area of your property into a permanent visual asset.
Why select Gold Coast Rock Walls to build your retaining wall?
A natural boulder or sandstone rock retaining wall is a great look for your property, but you need to make sure that you choose an experienced and licensed contractor to custom build it.
An unlicensed retaining wall contractor may not have the necessary knowledge and experience to custom build boulder or sandstone rock walls and is unlikely to do a good job.  You might end up with a unattractive retaining wall that is uneven and misshaped.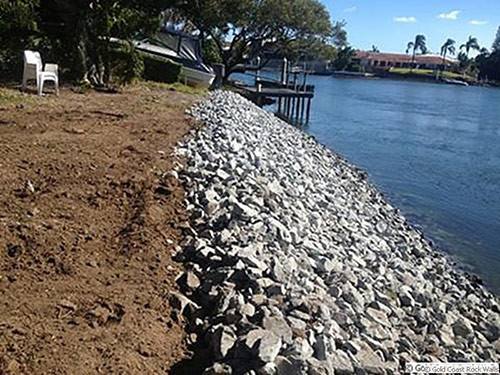 It is usually quite obvious when a rock retaining wall has been built by an inexperienced contractor.
A poorly built rock retaining wall may have different sizes of rocks placed haphazardly and small rocks may have been used to disguise structural flaws. It may also look unsightly from a distance and it is likely to lack symmetry in the overall structure.

The design principle to follow when building a custom rock wall is that the rocks must be touching each other as much as possible. this is because a rock retaining wall is classified as a gravity structure by engineering standards. To be effective, a rock retaining wall needs to be securely stacked in a very specific way. The finished rock retaining wall is an investment for your property and will need to be built correctly.

When building a rock wall, larger rocks need to be stacked at the bottom of the wall. The rocks used in the wall should be symmetrical and evenly spaced with no large gaps between them. The top row should have a nice level finish to assist in water retention.

Gold Coast Rock Walls can build a unique boulder or sandstone rock wall to meet your budget. We will construct a custom designed retaining wall to suit your individual requirements as well as fit neatly on your site and blend in with the natural contours and characteristics of the surrounding area.

Call Paul Wade today on 0415 943 283 to get started!