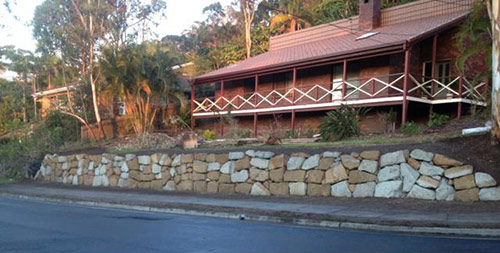 We Scrap It, Shape It & Scape It!
Gold Coast Rock Walls are recognised as the industry leaders for boulder wall design and construction on the Gold Coast in Qld Australia.

Gold Coast Rock Walls was established in 1980 by Paul Wade and since then we have been setting the standard for construction of quality rock walls and retaining walls.

Contact us if you have any questions and we will be happy to help you with advice gained by us over 30 successful years in the Gold Coast construction industry.

Gold Coast Rock Walls service the Gold Coast, northern rivers of Northern NSW and north to Coomera.

Call us today on 0415 943 283 to arrange an inspection of your property and a free quote.
About Gold Coast Rock Walls
Gold Coast Rock Walls started on the Gold Coast in 1980 and was initially known as Gold Coast Bobcat Hire.
The business evolved into Gold Coast Rock Walls because of our specific interest in building rock retaining walls.
It is our knowledge of structural landscaping as well as our skill and enthusiasm for excavation and building rock walls that has seen the business expand and prosper.
Whether you require a rock wall, landscape renovation, or excavations, trust Gold Coast Rock Walls to deliver.

Read more about Gold Coast Rock Walls here »