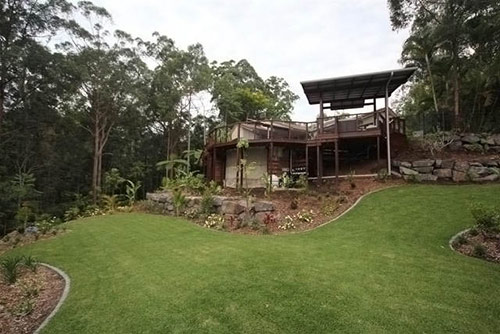 Gold Coast Landscaping & Landscape Renovations
We specialise in structural landscape renovations turning your outdated, overgrown or run down yard into a vibrant fresh and appealing environment to add both value and appearance to your property.

We have had many years of experience in landscaping on the Gold Coast and Tweed Coast, starting way back in the early 80's. Our attention to detail and the effort we put into our work has been the reason for our longevity and success.
Our team of experienced landscapers constantly update their knowledge and skills. We attend soil and plant seminars to keep us up-to-date with the latest developments in relation to dry and drought resistant vegetation and wet soil additive. This knowledge allows us to choose the right soil and plant combination for your particular area whether it be coastal or in the hinterland.
We approach every Gold Coast landscaping project with an open mind and are happy to combine your ideas with ours to achieve the outcome you desire within your budget.
We have developed a number of landscape themes for you to choose from if your outdoor imagination needs a little help.
Sub-tropical area
Native area
Hardscape rockery
Maintenance free area
Outdoor room
Water feature area
Each of these of these landscape themes can be tailored to your surroundings if plant environments are suited.

We use only the very best quality materials available to us on our work sites our soils comprise of two blends one for our garden beds and areas this soil is rich in fertilizer and ingredients to hold moisture and provide your plants with the trace elements they require for continuous growth though the four seasons.

Our turf blend of soil has been developed to stimulate the growth of a healthy lush lawn it to be blended with moisture retaining ingredients and fine stone to prevent clodding and hard spots which stunt lawn growth and cause weeds to develop.

We source our plants and turf from a number of well-established and reputable companies on both the Gold Coast and Tweed Coast to ensure your garden and lawn is seasoned and accustom to our local weather changes and rainfall.

It is our aim to improve the outlook of your property so you can spend more time relaxing in your own surroundings.
Whether you are looking to renovate an existing landscape or create a new landscape from scratch, trust Gold Coast Rock Walls to deliver a professional result that will exceed your expectations.

We use written contracts for all our landscaping projects - for your confidence and ours.

Call us today to get started on 0415 943 283!